"Having taken the online program has definitely distinguished me from other applicants because it underlines my interest in health professions education. I can honestly say this program is the single most important thing on my resume that is getting me interviews." — Lucas Cruz, M.D., Health Professions Education Certificate, Graduate Summer 2016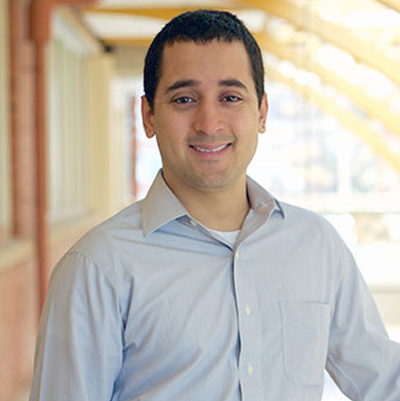 Lucas Cruz, M.D., Resident, Internal Medicine, University of Connecticut,
is now landing great interviews for a future fellowship, which he credits
to his completing the Certificate in Health Professions Education Online
Graduate Program.
Putting the Learning
Back in Teaching
It could be called the morning routine—that first formal learning activity of the day when medical residents are brought together for "Morning Reports," a case-based discussion facilitated by the chief resident, with one resident selected to present the case. For many participants, it's an anxiety-provoking experience that puts them on the defense—not a great stage for learning, at least that's what Lucas Cruz found. He set out to do something about it. Thanks to the tools he acquired during the Certificate in Health Professions Education Online Graduate Program, he's already making a difference.
Lucas, who is currently in his last year of residency in Internal Medicine, was skeptical at first; he'd never taken an online course. But as he quickly found, participating in the University of Connecticut's (UConn) online certificate program turned out to be one of the best decisions he ever made.
"All of my fellow students were either residents like me, nurses or other type of healthcare professionals with an interest in teaching—we all have incredibly busy schedules," says Lucas. "But the online format made it easy and convenient to participate. I also really appreciated the live web-based meetings on Thursday nights. I felt like a member of a cohesive group." And he adds:
"Our professor, Dr. Tom Van Hoof, is not only very dedicated to his students, but he also practices what he preaches. I could actually see how the strategies he taught helped me improve my own ability to learn."
Building as he learned
While theoretical concepts were introduced during each course, students were also given useful strategies for practical applications. And in fact, several of those strategies became the core of a three course project Lucas designed to help make Morning Reports more inclusive, enjoyable and based on real evidence for others in his residency program. As he notes, "I wanted to put the learning back in the teaching process by integrating new evidence-based strategies we were introduced to during the program," adding:
"I could have done a project for each course, but by using Morning Reports as the common theme for all three, I built the project gradually based on the knowledge I was gaining about the evaluation, planning, and implementation processes covered in the program. The project completed itself, almost in an effortless way."
Walking in blind
One of the key aspects of Lucas's plan was to make sure residents would be prepared to learn during each session. "One of the critical stages of learning is called predisposing, which can increase the student's interest, satisfaction, and retention of the activity," he notes.
As Lucas explains, the Morning Reports format gives one resident the opportunity to prepare and present a patient's case step-by-step. The participating residents, who have no previous knowledge of the case, ask questions to figure out the underlying issue. Throughout the process, the chief resident mediates the discussion and tries to help the residents narrow down the diagnosis to a few possibilities. Says Lucas:
"The resident walks into the session with no idea of what's going to be discussed, so there's no way to prepare. The discussion isn't very rich, so they don't learn as much. What's more, it can feel like an evaluation of their participation, which can create anxiety and does nothing to help residents retain information. And worse, it puts them in a defensive mode."
Preparing residents to learn
So how did Lucas address this issue? Among several other strategies, he created a pre-test that would be given to the resident one week before each session, asking questions based on the general topic to be discussed. This would ensure students were prepared beforehand without giving away the diagnosis, which would dilute the mystery and interest in the case. And Lucas emphasizes:
"The questions sent beforehand are designed to stimulate the residents to read more about the topic and understand gaps in their knowledge that might help them figure out what they should be looking for."
Lucas also designed in educational strategies to encourage participation in a non-threatening way and continue the learning to help reinforce the information the residents gained from week to week. For example, he proposed that for four weeks, the focus of each Morning Reports session be limited to one major medical specialty, allowing residents to build on their base of knowledge before moving onto another topic.
Big upsides
The strategies Lucas created are now being implemented by two chief residents at St. Francis Hospital and Medical Center. Says Lucas:
"The chiefs are very open to hearing my ideas and are now implementing them, one strategy at a time. They have already gotten great feedback from the residents themselves and are actually seeing that they have improved the learning experience."
There's been another big upside for Lucas personally. He is currently applying for a fellowship in pulmonary and critical care. Thus far, the interviewers have asked him about his interest in education and seem particularly impressed by his having earned the UConn graduate certificate credential. "Having taken the online program has definitely distinguished me from other applicants because it underlines my interest in health professions education. I can honestly say this program is the single most important thing on my resume that is getting me interviews."

______________________
"Dr. Van Hoof was a phenomenal instructor not only in terms of accessibility, but he walked the talk. He showed us just what active teaching is supposed to look like, and we built on our skills every week. I had heard he was a fantastic professor, and now I know he is!" — Jeannie Dodd, Health Professions Education Certificate, Graduate Summer 2016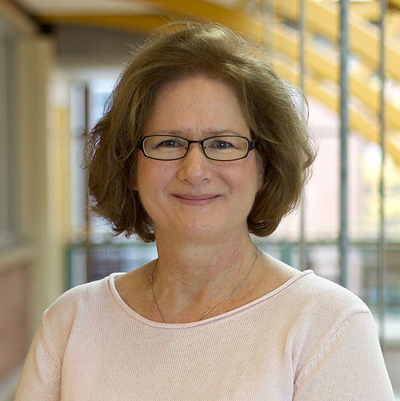 After earning her Master's degree, Jeannie Dodd decided
to jump right into UConn's Certificate in Health Professions
Education online program to cultivate the "teach the teacher"
skills she'll need to develop and implement continuing
education programs for residents and nurses at
Baystate Medical Center in Springfield, MA.
Walking the Talk
As Jeannie discovered during the Health Professions Education online program, the principles of active learning play a key role in ensuring that materials stick in our brains. But she didn't just learn the principles; her professor, Dr. Tom Van Hoof, continually used these principles to help his own students learn. "He walked the talk," says Jeannie.
Jeannie Dodd grew up in a family that places tremendous value on academic learning, so it's not surprising that she has an intense interest in continuing education. As Jeannie notes, she had the good fortune to spend her formative years as a student in the Department of Defense schools—one of the best educational systems in the world. From there, she headed to her local community college, then onto Rhode Island College, where she got her undergraduate degree in nursing.
For the past twenty years, Jeannie has worked in neonatal intensive care (NICU) units, while raising three children. "I knew I always wanted to advance my education, but I needed to put it on the backburner while my kids were young."
Finally, the time was right. Three years ago, Jeannie headed off to the University of Connecticut (UConn), where she earned her Neonatal Nurse Practitioner Master's Degree. Knowing Jeannie's interest in continuing education, the director of the program suggested that she look into UConn's Health Professions Education online graduate certificate program to round out her skills.
"It was made for me," says Jeannie, who jumped on the opportunity as soon as she completed her Master's. Just one year later, in August 2016, she earned the certificate. She intends to apply what she learned during the year-long online program to support the continuing education needs of nurses and residents at Baystate Medical Center in Springfield, MA, where she currently works full time as a NICU nurse practitioner.
Brain-based or "active" learning
"Made for her" is an understatement; Jeannie raves about every aspect of the program, especially how her professor, Dr. Tom Van Hoof, used brain-based learning tools to teach students the value of—and how to employ—active learning methods. "A great example of this was the synchronous classroom experiences during which Dr. Van Hoof used a meeting platform called Zoom that allowed class members to participate in Skype-like conferences called Zoom Rooms," explains Jeannie, who adds:
"It's like Hollywood Squares. Each of us had a square and was able to be on the computer screen together, all at once. While someone was speaking, the outline around the square lit up, and the student's name would appear in the bottom left-hand corner."
So how did Zoom Rooms complement the active learning model to which Dr. Van Hoof prescribed? Based on a specific program objective for that week, Dr. Van Hoof would assign readings from traditional theorists, supported by case studies showcasing the latest research from current experts in the field of continuing education. Students were given writing prompts on Fridays, which they would complete over the weekend and submit to Dr. Van Hoof. By the following Tuesday, he would provide feedback online. Then on Thursday nights, students were able to participate in a live discussion together in the Zoom Room. As Jeannie says:
"There was no need for him to do big lectures during which we would passively sit and take notes. We were already prepared to discuss the topic. He was actually following evidence that shows teaching material in a sequence like he did and ensuring students are prepared to discuss it, instead of coming in cold, is much more effective. He truly practiced what he preached."
Different points of view
Jeannie also greatly appreciated the program's multidisciplinary focus. As she notes, her courses included all kinds of health professionals, from doctors, pharmacists, and physical therapists to other nurses and even public health professionals. "When it comes to patient care, we are always encouraged to work in interdisciplinary teams. By being in the program with so many different healthcare professionals, I got a better understanding of their different learning needs, which will be most helpful later on when I get more involved with continuing education in my current job." And as she emphasizes:
"We don't work in silos, but sometimes it feels like we do. For me, being in a program during which I heard many different perspectives helped erase some of the boundaries of those silos."
The value of critical reflection
Each semester, students were required to complete a project, which Dr. Van Hoof suggested should be something relevant to the students' day jobs. The projects should also incorporate some of the concepts they learned during the course, with the ultimate goal of improving continuing education in the workplace.
Jeannie was particularly interested in a topic introduced during the program called critical reflection. "I had heard this term, but never really understood what it meant," she recalls. "The program got me thinking about it and how I could use the concept as an active learning tool." One of Jeannie's projects focused on helping nurse practitioners and nursing students develop critical reflection as a learning modality. "The goal of my project was to teach them how to constructively look at the way they handle clinical experiences and determine how their experience could guide future learning needs and ultimately, help them be better at their jobs."
As Jeannie noted, critical reflection was just one of many active learning techniques she took from the program that she plans to incorporate into her own work life as opportunities arise. "Dr. Van Hoof was a phenomenal instructor not only in terms of accessibility, but he walked the talk. He showed us just what active teaching is supposed to look like, and we built on our skills every week. I had heard he was a fantastic professor, and now I know he is!"
______________________
"I tell anyone who may be thinking about doing this program that it will help you become a better healthcare provider because you'll improve your patient and staff education skills. And you'll become a better learner yourself." - Krista Roberts, DNP, Health Professions Education Graduate Certificate, Graduate Spring 2020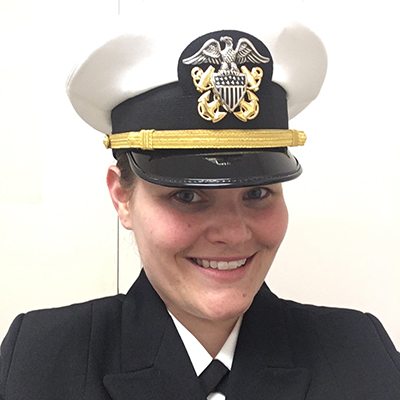 Over the past year, Krista Roberts has completed the Health Professions
Education Online Graduate Certificate Program and earned her Doctor
of Nursing Practice degree, all while being a mom of young twins and
working part-time as a Nurse Practitioner.

Benefits Today—and Long Down the Road
When Krista started the University of Connecticut (UConn) Health Professions Education Online Graduate Certificate program in June 2019, her twins were just five years old. At the same time, she was working part-time at a private clinic in Annapolis, Maryland. And she was in the middle of earning her Doctor of Nursing Practice (DNP) degree from UConn. She's also a Navy Reservist. (She was a member of the U.S. Navy Nurse Corps from 2009-2014.)
So why would she think it was important to add the nine-credit certificate program to her already full schedule? As Krista explains, "Since I was young, I have always wanted to be a teacher. I felt that the knowledge I would gain from the certificate program would not only help me better understand how to teach future students, it could also pump up my resume." But why would she need to "pump" up her resume, especially considering that she is a highly experienced Nurse Practitioner who would soon be earning the DNP credential?
Simple, says Krista. Eventually, she wants to work in a university or college setting. "Higher academia tends to prefer hiring PhDs, which are research-focused, over DNPs, which are practice-focused. At the same time, the higher education world wants to see at least nine graduate-level credits in Health Professions Education."
Applying her new skills daily
While becoming a professor in academia is a long-term goal, Krista says she is already benefiting from having received the certificate. "I am using the skills I learned from the certificate program every day in my job as a Nurse Practitioner," she notes. She emphasizes that the program has prepared her to better educate her medical assistants in order to help improve care at the Annapolis, Maryland clinic where she works.
Krista also points out that the program introduced her to diverse aspects of learning. For example, she said her professor, Dr. Thomas Van Hoof, talked a great deal about the concept of visible pedagogy. As she explains, "This process is used by instructors to help explain why they are doing what they are doing and why they are encouraging you to learn something. They might say, for instance, 'We'll focus on this case study because it will bring together everything we have been talking about over this past week.' Adult learners like this because they want to know why learning something is important."
The fact that Dr. Van Hoof led by example was another key reason the program resonated with Krista. "Tom was awesome. He used the skills we were being taught to teach us. He was very responsive and provided excellent feedback."
Weekly modules worked well
Krista also especially appreciated the weekly module format. When she started the certificate program, she was midway through her the doctoral program at UConn. "I thought the weekly modules worked really well and were easy to implement into my schedule." And Krista adds that she felt like she was in a live classroom setting thanks to the Zoom platform, which was used during the weekly synchronous meetings. As she says:
"Everyone could see each other and Tom encouraged dialog between us. He also made sure we all had the opportunity to speak, including those students who were more reserved. And of course, we were already accustomed to Zoom long before the Pandemic hit and Zoom became a 'thing.' I also really liked that my classmates were in different professions, which helped me better understand how each type of professional learns and teaches."
One of the other key strengths of the online program, says Krista, were the weekly assignments. "The assignments were structured around one specific topic only. Plus, they built on what we had been introduced to during the previous weeks, so that our new knowledge became second nature over time." And she adds: "Tom would provide the assignments as guides only. If there was something else that caught our interest, he encouraged us to lead our own assignments."
Helping save lives
During each of the three online courses, students were also asked to do a project, which could be completed during the course, or they could take on one big project that would be completed at the end of the three courses. Krista decided to do one project that spanned the entire program. She linked it to her doctoral thesis, which was focused on screening for military history and suicide risk of veterans being treated in a civilian clinic setting.
"For the certificate project, I decided to add an educational section for physicians, focusing on the importance of implementing this screening program into their clinic practice," she says and adds: "Interestingly, we discovered that veterans comprised 13% of our patient population. This group has risk factors that civilian patients typically don't have. Once we implemented the screening program, we found two vets who were at high risk for suicide and were able to connect them to appropriate mental health services."
Today, the clinic where Krista practices now screens all patients annually for military history. As she notes, "Some patients are not comfortable disclosing their vet status either because of the stigma attached to being a veteran or because they don't want to relive the trauma they had experienced while in active duty." Krista has submitted her thesis for publication.
Two big takeaways
When she talks about the biggest takeaways she gained from having earned the Health Professions Education Online Graduate Certificate, Krista says: "I tell anyone who may be thinking about doing this program that it will help you become a better healthcare provider because you'll improve your patient and staff education skills. And you'll become a better learner yourself."
______________________
"Anyone in the health professions field should get this UConn credential. As an Occupational Therapist I know what I need to be teaching people. But the approach and methods for teaching most effectively were missing—this was never taught during my academic experience. I also firmly believe that having this credential can help in a future job search. I will definitely promote my having gone through the program. Anyone on a search committee at the college or university level will want to know that you have the theoretical foundation to deliver the content in a way that meets every student's needs."  - Goesta (Gus) Schlegel, PhD Candidate, Health Professions Education Certificate, Graduate Summer 2020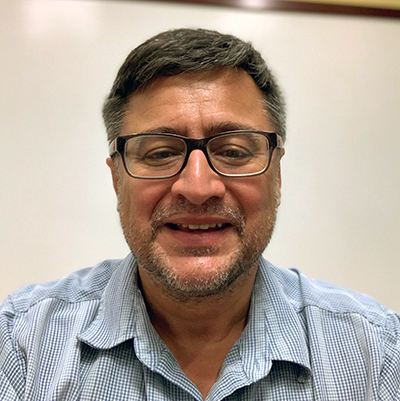 Thanks to the knowledge he gained in the Health Professions Education Online Graduate Certificate program, Goesta (Gus) Schlegel recently sat for and passed the Certified Health Education Specialist (CHES) exam.
Adding the Missing Piece to Enhance Patient Care
Goesta Schlegel, known as Gus to his friends, has had a long love affair with teaching. In fact, his interest in education goes back to his Army days, when he served in an active duty capacity as an Occupational Therapy (OT) Assistant from 1988 through 1992. Part of his team's mission was to train commissioned officers to identify stress in soldiers and enable them to help their subordinates develop coping skills they could use in the field. The doctrine that he and his team wrote on how to treat combat stress is still in use today.
When Gus was honorably discharged from active duty, he joined the United States Army Reserve and returned to college to obtain a Bachelor's degree in OT. He was 29 years old when he graduated from New York's Dominican College in 1995. Over his long career as an OT, Gus has worked in school, skilled nursing, and clinical settings, during which time his interest in academia continued to blossom. "I knew I needed a Master's degree to be able to progress in a college setting and actually teach students. Sure, as a clinician, I had worked extensively in the field with students, but had never taught in a formal classroom setting," he says.
In 2011, Gus decided to apply to the University of Connecticut (UConn) for a Master of Professional Studies in Humanitarian Services Administration, which he completed in 2016. That same year, he started working on his PhD in Public Health at Walden University. "When I started the PhD program, I wanted more formal education in learning theory. I felt that I still didn't know how to deliver information most effectively, so that it would be fully synthesized by adult learners."
The tipping point
As Gus explains, that was the tipping point for him to look for a program that would help him more effectively use adult learning theory. "What do you look out for in your students so that you know how they're best able to learn? How can I most effectively convey information without overwhelming the person? How, as an Occupational Therapist, can I make sure my patients fully understand my recommendations so that they can be an active partner in decisions and choices around their care?"
Those—and many other key questions—drove Gus to research programs that would help him sharpen his teaching skills in order to positively affect patient outcomes and enhance his teaching skills as a part-time faculty and clinical educator at Quinnipiac University. As a UConn alumnus, he decided to see what his alma mater had to offer. After a brief Internet search, he found the Health Professions Education Online Graduate Certificate program. Bingo! He called Dr. Thomas Van Hoof, Director of Teaching and Learning and Associate Professor in UConn's School of Nursing, to talk to him about the program. A year later, in the fall of 2019, he began the first online course, NURS 5700 - Health Professions Education: Evaluation.
Gus says that the content of the Health Professions Education Online Graduate Certificate program was exactly what he was looking for. For example, he learned strategies about how to avoid overloading students. "We learn through hearing and seeing, but when those two channels are filled to capacity, we need time to process the information and admit it to our long-term storage. If you sit through a full day of lectures, you will lose a lot of that information. We learned how to help students make the information they're gaining relevant to their lives, and that's how it sticks."
Practicing what he preached
According to Gus, Dr. Van Hoof always practiced what he taught, especially the premise that new learning builds on past experiences. For example, each week Dr. Van Hoof, who taught all three Health Professions Education Online Graduate Certificate courses, would provide readings with guided questions. The assignments would then build on each other from week to week. "This helped reinforce everything I had learned from the previous week. In fact, within just the first couple of classes, I had already learned enough to change how I was conducting patient and caregiver training, specifically training informal caregivers to be better equipped to care for a loved one."
As Gus explains, unlike caregivers who go to school to learn about patient care, adult children who find themselves in the position of caring for a loved one typically have no formal training. "I learned how to best understand a caregiver's 'health literacy' and how to teach in bite-size segments, so that informal caregivers are able to retain and commit to an experience they can draw from going forward."
Zooming before the pandemic
So what was Gus's impression of UConn's online platform, Husky CT/Blackboard? He loved it! At the start of each course, Gus says that Dr. Van Hoof provided trial runs on the Husky CT/Blackboard and Zoom platforms. "With the COVID-19 pandemic, most of us are now accustomed to Zoom and other online collaboration platforms. But I started the program six months before the pandemic. So I really appreciated how Dr. Van Hoof led us through the platforms and showed us how to log into Zoom calls. He also helped us make sure that our equipment was operating properly and how to set up our work space for the weekly Thursday synchronous sessions."
Gus also found it refreshing that there were a wide range of health professionals in the program, including nurses, physicians, and professionals with expertise in community health, health science, and human resource management. "By better understanding the mindset and challenges of other types of health professionals, I learned new strategies to work more collaboratively with my colleagues to make sure our patients can understand and assimilate the information we, as a team, are providing." Gus notes that to this day, he is still in contact with many of the students in his cohort who went through the sequence of three online courses together.
Three projects—or one big one
Students were given the choice to do individual projects for each course, or one project that extended over the entire program, the route Gus decided to take. For his project—Using Segmented Multi-Media to Augment Occupational Therapy—he created a bank of multimedia presentations, both audio and video, each of which were kept to a maximum of 15 minutes long.
As Gus explains: "Each element of my project was based on theories and models that support optimal adult learning. This included The Cognitive Theory of Multimedia Learning, which states that learners process dual channel verbal and visual input, and only a finite amount of input can be processed at a given time through each channel for maximum effective learning to occur. The learner must be able to attend to the presented material, mentally organize the material, and then integrate it with prior knowledge. Scaffolding multimedia course content allows the learner to consume multisensorial material at his or her own pace, and it provides the learner with opportunities to then integrate the new material with previous or parallel learning experiences."
In summary, says Gus, who recently sat for and passed the Certified Health Education Specialist (CHES) exam: "Anyone in the health professions field should get this UConn credential. As an Occupational Therapist I know what I need to be teaching people. But the approach and methods for teaching most effectively were missing—this was never taught during my academic experience. I also firmly believe that having this credential can help in a future job search. I will definitely promote my having gone through the program. Anyone on a search committee at the college or university level will want to know that you have the theoretical foundation to deliver the content in a way that meets every student's needs."